Hey, welcome to my favorites page!
Here's a list of products I've used, loved, and recommend to friends and family. If you have any questions about any of them or would like an in-depth review, feel free to let me know in the comments section. This posts may contain affiliate links, meaning small commissions can be earned on sales of purchases by those who visit this site (at no cost to you). Read more
Boppy Nursing Pillow and Positioner
This pillow is incredible arms and back relief. You don't realize how uncomfortable holding a baby is until you have to do it for long periods of time. The boppy nursing pillow works even if you're not nursing, our whole family used it while craddling JC in their arms. And as your baby grows you can use it to prop them up and for tummy time.
Lansinoh Soothies Cooling Gel Pads
Soothe sore, cracked, irritated nipples with this magical gel pads. They helped me so much when baby and I were learning to breastfeed. The cooling sensation was exactly what I needed.
Haakaa Silicone Breast Pump & Silicone Cap
Never waste a drop of milk with this amazing milk catcher/saver. Especially helpful during night time feedings when nursing on the other side. I usually get between 1 to 2 oz. of milk that would've otherwise been lost.
 Perfect comfy, secure place to lay baby down and free up your hands. There is a slight incline which helps in your baby has influx. I brought this lounger with me in every room we were in, my son loved to lay in it while I sang or read to him.
This is a must buy in my book. You can use it for years as it converts from an activity center into a table for toddlers. The toys are easy to move around and it SUPER easy to clean. Here is my full review.
I have to admit, when my son's godmother bought this for him and I thought it looked ridiculous. No, no my mama friend, this thing is perfect! My little one really enjoyed exploring all the different textures with his gums. And since it comes in a 2 pack, keep one in the diaper bag and one at home so you'll always have it near by.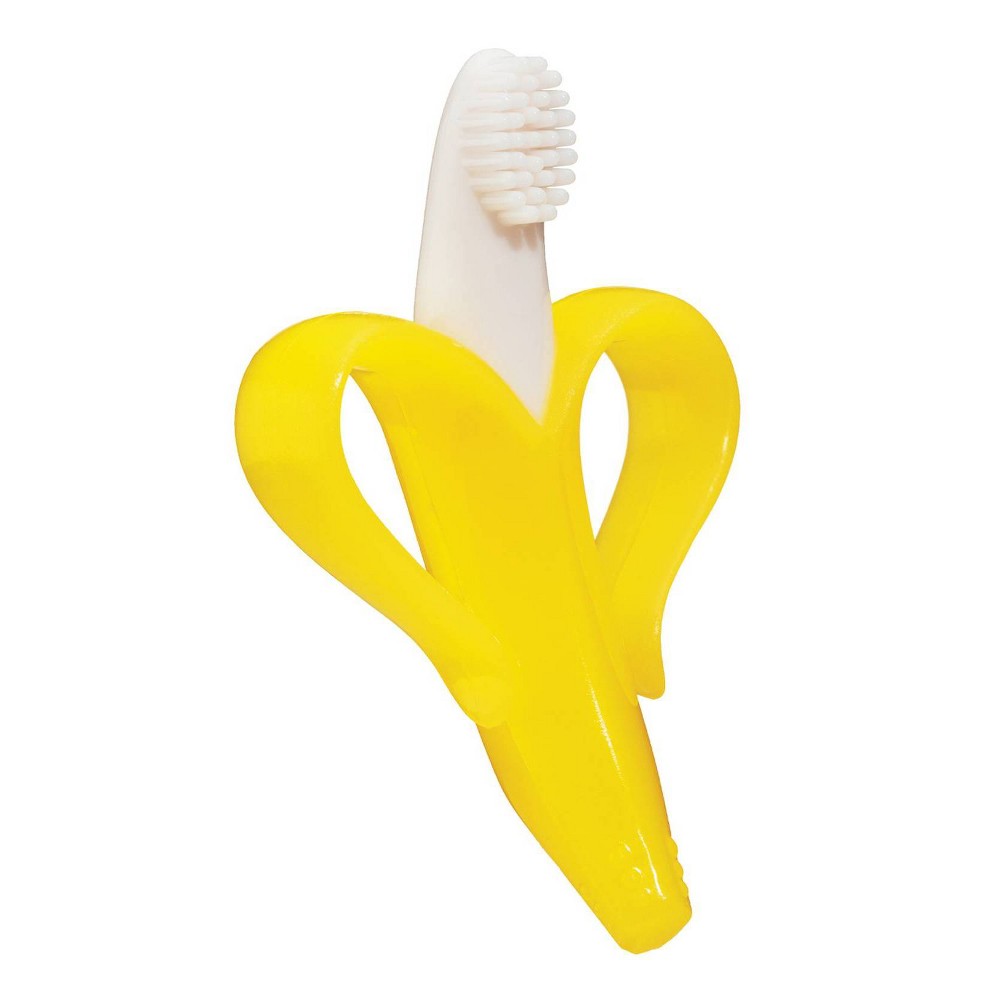 Baby Banana Teething Toothbrush
These are really helpful to massage gums when new teeth are coming in. My son used to chew on it all day and it helps infants get used to the feeling of brushing their teeth. It's BPA, latex, and phthalate-free. And it's dish washer safe.
Excellent teething toy ! The wholes help baby to learn how to grasp while the beads will keep baby entertained. I loved this toy so much, I wrote a review on it.
This teething feeder allows your baby to safely gnaw on foods. As you read, many moms found success with cold items. The cold sensation helps to numb the irritated area and was a go-to for us with my son.  We used to put apple sauce in the feeder and pop it in the freezer before serving to our baby and it really helped to distract him and relieve his discomfort.
My favorite spill-proof toddler cup. Take this light-weight, spill proof cup with you anywhere. It's so convenience and very easy to clean.
Step2 Fun with Friends Kitchen
This is one of the few items I say are definitely worth the splurge! As soon as your little one can stand really well or walk, they'll spend endless time playing with this kitchen. Opening the over, pulling out the bin, opening the fridge, pretending to cook, learning the names of the objects. Highly recommend as you'll definitely get your money's worth.
Practice writing and drawing shapes, letters, pictures, scribbly lines, basically anything your child's heart desires. It comes with 3 little stamps and the pen is attached so you don't have to worry about losing it. Perfect light-weight toy to take on the go.
Upper Case Letters and Numbers Learning Board
Great, fun way to teach your children the alphabet and numbers. It's also a puzzle which helps young children to develop problem solving skills. Once they've mastered letters and numbers, you can use the board for spelling and early math.
LeapFrog Learning 100 Words Book
This book teaches 100 words in English and in Spanish! It gives your toddler the opportunity to hear and say commonly used words in both languages. Each page has its own category: pets, animals, fruits, food, mealtime, clothes, colors, body parts, activities, outside, vehicles, and opposites.
There are three stages for the images:
Name (example: bird)
Fact (example: the bird flies)
Sound (example: chirp, chirp)
This wooden shape sorter is a great educational toy for toddlers. We use it for learning colors, learning shapes, sorting, and problem solving puzzles. Literally keeps my toddler entertained for about 30 minutes a few times a day.
Must have for every warm season! Theses are great, breathable shoes that can even be worn in the water. Super easy to clean, just rinse them off! Worth every penny.
This is a fun, mess-free  activity that you can do practically anywhere. The spill-less container make it easy for your child to have fun blowing and popping bubbles on their own.
Graco Extended2Fit Convertible Car Seat
My favorite car seat that can grow with your child from 4 – 100 pounds. Backward and forward facing with reclining and height adjustable features. Leaves nothing to be desired. And it's so affordable!
Herbal remedy for infant gas, collic, and hiccups. It's super fast acting! One night hicccups were keeping my little one up and in under 2 minutes his hiccups were comepletely gone. It can be used on babies 2 weeks and older. Make sure take your time when dispensing it.
Soft rubber brush bristles loosen the flakes while the fine tooth comb gently removes them. This worked like a charm when JC was a newborn.
Nose Frida Baby Nasal Aspirator 
This nasal aspirator (A.K.A. snot sucker) works wonders at getting really thick and stubborn mucus out of your little one's nose. Buy it and thank me later. This combo pack comes with the nose frida, saline spray, and extra disposable filters. 
Ages 2+
The best cough solution we've found! It was created by a pediatrician and father with chemical-free ingredients. It honestly works wonders.
Hey girl!
I'm MiMi: wife, boy mom, full time employee, and part time blogger. Modern Momsense is a judge free zone where moms can read honest stories of triumphs and failures that I hope can help make your journey through mommyhood easier. I love sharing information about pregnancy, breastfeeding and pumping, products I've tried, and caring for infants and toddlers. I also write about "adulting" topics specific to mom life.
Whether you're a first time mom or a been-there-done-that mom, I hope this blog will be a source of information and encouragement for you. So make yourself comfy mama, you've got this!
This posts may contain affiliate links, meaning commission can be earned on sales of purchases by those who visit this site (at no cost to you). Affiliate commission helps this site grow. Read more